2023 WQA Convention & Exposition
by
MuJessie
- Updated May 22, 2023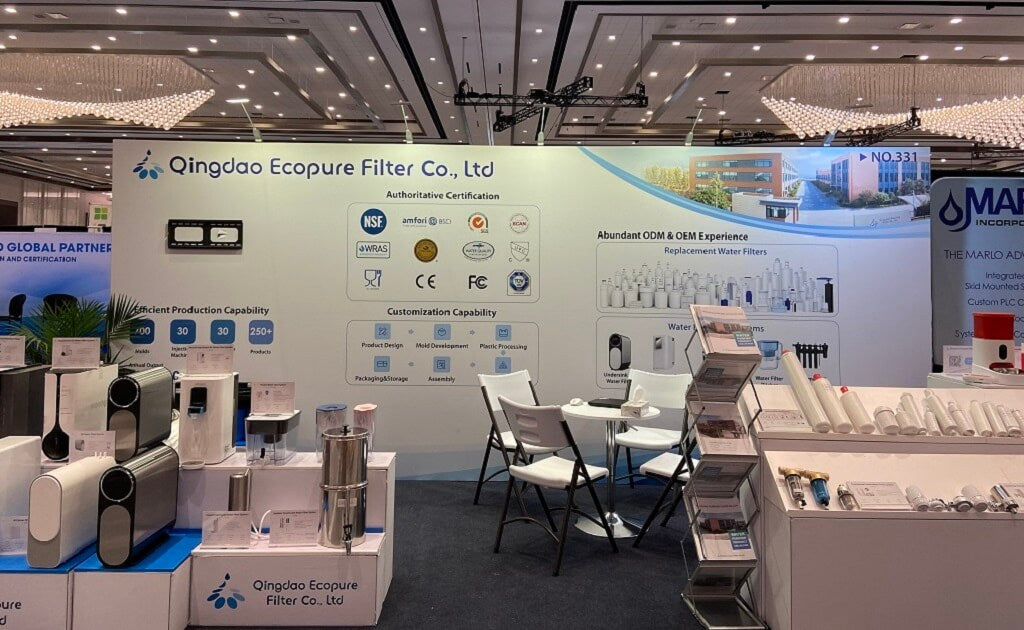 Qingdao Ecopure Filter Co., Ltd. Exhibited at The WQA Convention and Exposition 2023
Qingdao Ecopure Filter Co., Ltd. has gained a strong reputation as a top player in the water purification solution industry. The company showcased a wide range of innovative and well-established products at the exhibition, including countertop and under sink reverse osmosis systems, refrigerator water filter systems, commercial water filter systems, and more.
The convention offered visitors and attendees a glimpse of the latest cutting-edge products and advanced technologies. Qingdao Ecopure Filter Co., Ltd. demonstrated its expertise in best practices and advanced solutions in the water industry. The valuable insights and recommendations gathered at the exposition will be instrumental in shaping our future product development and enhancements.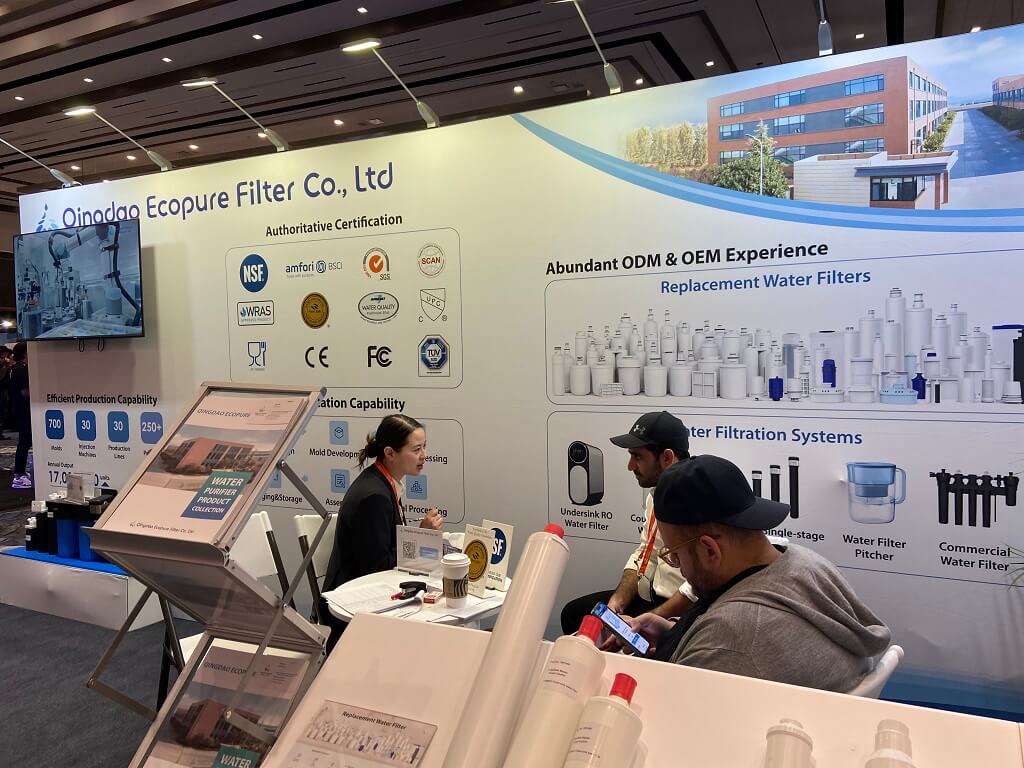 The 2023 WQA Convention and Exposition
The Water Quality Association (WQA) is a non-profit organization that represents all sectors of the water treatment industry in the United States, including small communities, industrial, commercial, and residential sectors.
For more than four decades, the WQA convention has been the premier event for the water treatment industry, serving as a platform for dealers, manufacturers, and consultants to connect and discuss the latest industry trends. The convention offers excellent opportunities for networking, education, and research. The 2023 WQA Convention and Exposition attracted over 2,500 attendees and featured 180 exhibitors.
About Qingdao Ecopure Filter Co., Ltd.
Qingdao Ecopure Filter Co., Ltd. is a reputable provider of top-notch water purification solutions, boasting 12 years of experience in OEM services.
As a leading manufacturer of water filtration products in China, we hold multiple international certifications such as
NSF, TÜV SÜD, ISO, and BSCI
. Our products have consistently met the highest quality standards, making us a trusted supplier for international companies. We have successfully collaborated with numerous renowned brands and have received Ali's prestigious OEM certification.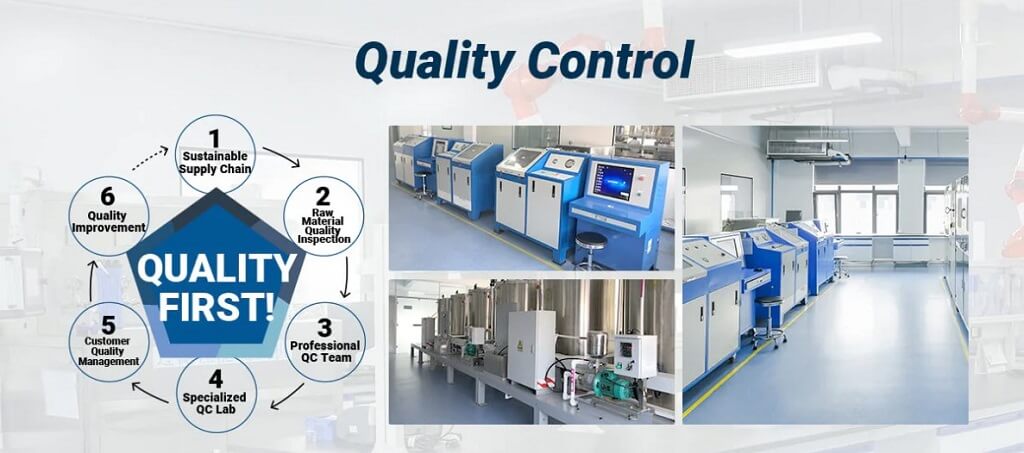 Qingdao Ecopure Filter Co., Ltd. has established a comprehensive quality control procedure, which consistently provides products that meet customer and applicable statutory and regulatory requirements.
The company offers a comprehensive range of filtration systems for both residential and commercial use. Our product lineup includes countertop, under sink, whole house, and outdoor filtration systems. Notably, over 30 of our products have achieved certifications against NSF42, NSF53, NSF401, and NSF372 standards.
Featured products including:
Product Features:

Plug-and-play Design
4-stage Efficient Filtration
170 OZ High-capacity Tank
3:1 Pure to Drain
Intelligent Display Screen
4-mode Customizable Water Capacity
Easy Filter Replacement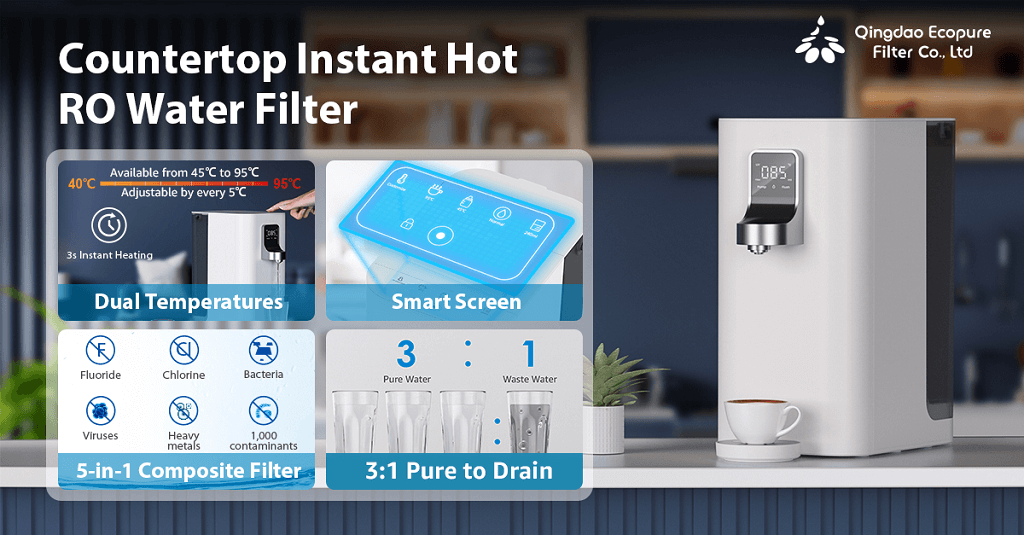 Product Features:

Space-saving Tankless Design
Stainless Steel Housing
5-stage Powerful Filtration
2:1 Pure to Drain
600GPD Water Flow
Brushed Nickel Faucet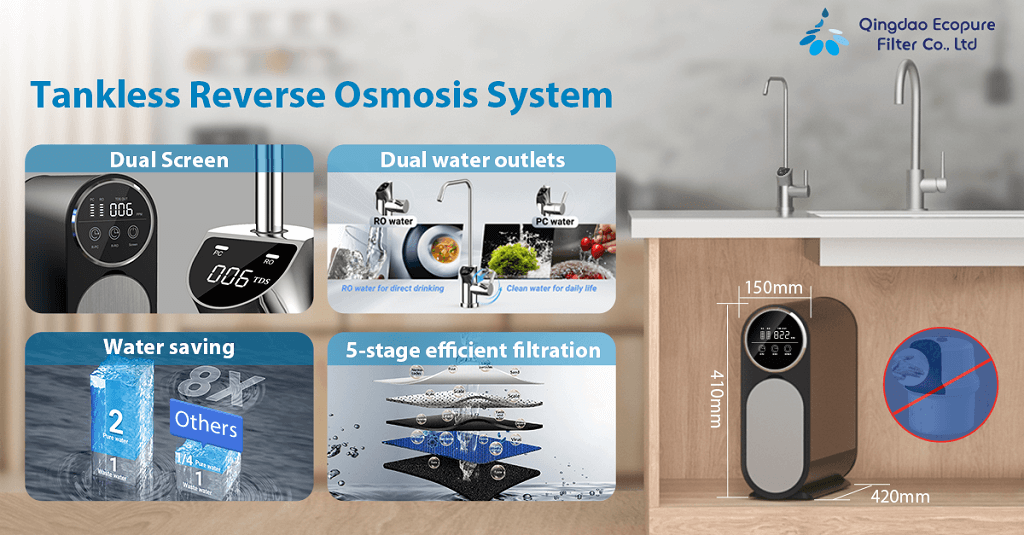 Qingdao Ecopure Filter Co., Ltd. combines the expertise of a professional design team with advanced factory management and efficient automated production lines. This integration ensures a seamless flow of production, resulting in accurate, fast, and stable processes. By improving efficiency and reducing costs, we are able to deliver high-quality products while minimizing operational errors.
Our team of skilled R&D and design professionals is dedicated to providing personalized services and prioritizing customer satisfaction, ensuring that their specific needs are met with excellence.
In Conclusion
Qingdao Ecopure Filter Co., Ltd. remains committed to delivering full-service whole house intelligent water purification solutions. Our commitment to delivering a diverse range of high-quality water filtration solutions remains steadfast, serving both domestic and international customers.